What is the best rubber compound for a high-temperature environment?
How does heat affect rubber?
The presence of persistent or extreme heat can cause degradation in rubber materials, leading to poor performance and even failure.
For high-temperature applications and environments a high-temperature resistant rubber compound is required to offer dependable performance without compromise.
Here at SRM we've been working with high-temperature resistant rubber compounds for over 40 years and have an extensive knowledge of their properties and applications. Working with specialist material laboratories, we have developed our own compounds for optimum performance every time.
This is our guide to three of the best high-temperature resistant rubber materials that we stock.
Silicone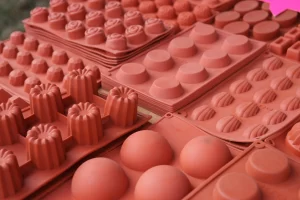 Silicone is the first choice when it comes to extreme temperature application. It offers outstanding high-temperature resistance up to 305 °C, making it the number one choice in the food industry. Although Silicone has great heat resistance it is not chemical resistant and has a poor wear rate and lower tear tolerance than other compounds.
FDA approved silicone
FDA approved Silicone is a unique synthetic elastomer, extremely durable to UV and Ozone resistant, silicone maintains a high temperature range. These properties combined with an attractive colour spectrum make silicone an ideal choice for moulds and bakeware products.
Viton
Viton is an excellent high-temperature-resistant rubber and is an extremely hard-wearing compound. It is chemical and acid resistant and can with stand oil temperatures of 300C making it perfect for use in the petrochemical industry for seals and clamps.
Viton is commonly used for O-rings in engine seals where resistance to fuel and oil at high temperatures is paramount, particularly where high concentrations of bio-diesel are required.
Viton is also food approved and well suited to food and lab applications where FDA compliance is required.
EPDM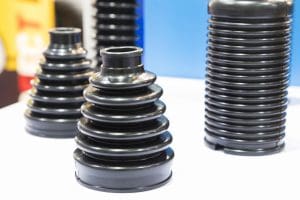 Ethylene-propylene-diene monomer (EPDM), offers excellent heat resistance up to 150°C. It also has excellent tear, abrasion, steam and compression set resistance. It does however offer poor resistance to petroleum-based fuels, most oils.
EPDM's ability to with stand extreme temperatures whilst maintaining flexibility make it a great choice for components like joystick gaiters for construction vehicles where cockpit conditions can fluctuate in temperature dramatically.
If you are looking for a rubber compound that is water resistant, can handle extreme temperatures (both hot and cold), is resistant to ozone and incredibly long lasting, then EPDM is the choice for you.
At SRM we hold a broad range of stock materials on site and can produce the mould tooling in house, whether it be injection, transfer or compression tooling; this allows us to mould the complete volume spectrum, from small quantities to mass production.
For advice about high-temperature resistant rubber product or to discuss your requirements with one of our technical experts, get in touch now.