FDA-approved rubber moulding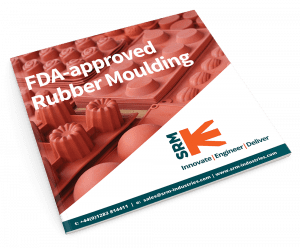 SRM manufacture FDA-approved rubber mouldings for the food industry
SRM's geographical location is ideal for the food industry, being located in the heart of the Midlands and surrounded by food manufacturers.
We have worked within the food manufacturing sector for over 40 years and we stock a broad range of FDA-approved rubber moulding materials. Download our ebook
We have a wealth of experience and knowledge producing rubber moulded products for the food industry including:
Silicone bakeware
Chocolate, fudge and lolly moulds
Baby food / ice trays
Factory production line seals
Rubber oven inserts

FDA-approved rubber moulding
The two main types of rubber used in the food industry are FDA-approved Silicone and FDA-approved Nitrile.
FDA APPROVED SILICONE
FDA approved Silicone is a unique synthetic elastomer made from a cross-linked polymer which is reinforced with silica. Extremely durable UV and Ozone resistant, silicone maintains a high temperature range. These properties combined with an attractive colour spectrum make silicone an ideal choice for moulds and bakeware products.
FDA APPROVED NITRILE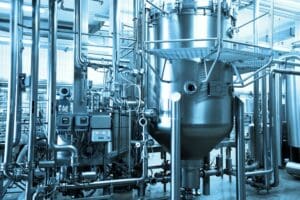 Nitrile is food approved (FDA-approved). As a result it is used extensively across the dairy farming industry and in food processing plants in production lines. It is used in the confectionery industry for mould making where resistance to extreme temperature is not a requirement (lollipop moulds for example) as Nitrile is a much more cost effective alternative to Silicone.
We can produce parts by either compression or injection rubber moulding dependent on volume and application.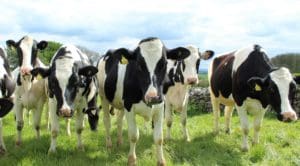 FDA-approved rubber moulding for the Dairy industry
SRM is the UK's biggest rubber moulding supplier into the dairy industry.
Our products are integral to the dairy industry and are used principally in milking systems and milk storage equipment.
We have been producing rubber moulded parts for the Dairy industry for over 40 years and as such, carry FDA-approved materials in stock as standard, which is not the industry norm.
Products we make include:
Milking Liners
Machine Buffers and Seals
Diaphragms
Spacers
Seals
Rubber Connectors
Inlet Bungs
Elbow Connectors
FDA-approved Silicone and Nitrile options
All materials used need to be FDA-approved and comply with dairy farm legislation. Products that are in contact with food (milk etc.) must be made of Silicone, which is a clean material with no impurities.
Other non-contact materials used for buffers and shock absorbers include FDA-approved Nitrile and natural rubber.
All of our products are injection rubber moulded, which is best-suited to the volumes produced.
For more information or assistance please email sales@srm-industries.com